Design Process:
The following stages make up the typical design process:
Initial visit:
Firstly I will bring a portfolio of my previous garden projects for you to look over and gain a feel for the type of gardens i produce.  We will then discuss what you want and need from your new garden, developing an outline of the themes, styles, and types of materials you prefer.  At this stage we will also set out a budget for the design to follow.
Survey:
If after our initial consultation, you wish to proceed with the project, a survey will be caried ot of the site plotting the garden and its current features, detailing all relevant site conditions.
Concept design:
The garden design will take the form of a plan drawing, detailing the hard landscaping areas, o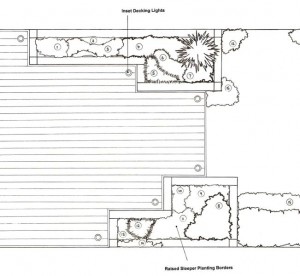 ther garden features, planting areas and themes.  This plan will then be presented to you and we can discuss how the garden will work and the features within it.  At this point any additions or revisions can be made in order to establish a final design which you are happy with.
Planting plan:
This is a secondary plan which will accompany the concept design, it details all the plants used in the design and indicates their position in the garden.  If you prefer, this information can be included within the concept design plan.
When you are happy with the completed design your new garden will be built to a high standard, using quality locally sourced materials.  Alternatively if you wish to organise the construction stage yourself then its over to you, or for a fee, i can oversee the construction stage to ensure the materials, quality of finish, and integrity of the design is upheld.